Join Us for a Cup of Coffee and See if it's Right for You Too!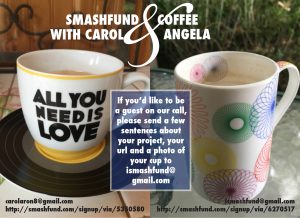 We all yearn to be able to do more and have more. Who wouldn't love a fabulous career doing what we love, earn more income, have more free time and the freedom to help others wherever and whenever we can. That, is the definition of Independence. But sometimes life can take a different road than the one we thought we were on. Unexpected bills pop up or we lose our job, the kids move back home after college and we feel like we are constant treading water or running in place. We need to slow down but if we stop, we might never catch up. It's like quicksand!
A Better Way With SmashFund
But we're optimists, and there is always a better way. When SmashFund came along, both of us saw this as an opportunity to help so many people regain their independence. From being able to do what we are passionate about and make a career out of it, to having the funds available to finance our next big idea, to having money for the next emergency because sometimes, there are a lot of rainy days.
While crowdfunding might be a new concept for you, once you wrap your brain around it and your creative juices start to flow, from helping out your kids school fundraisers, to resurrecting a dream you've had since you were a kid, SmashFund and crowdfunding might just be the solution to your independence.
If you have an idea, a need or a passion that you would like to crowdfund, please join my crowd. http://smashfund.com/signup/via/6270517
Listen in at https://youtu.be/8BvVjRJHr7U
If you'd like to join us for SmashFund and Coffee to get your passion out to the world, send an email to ismashfund @gmail.com. We'd love to get together for a little chat.